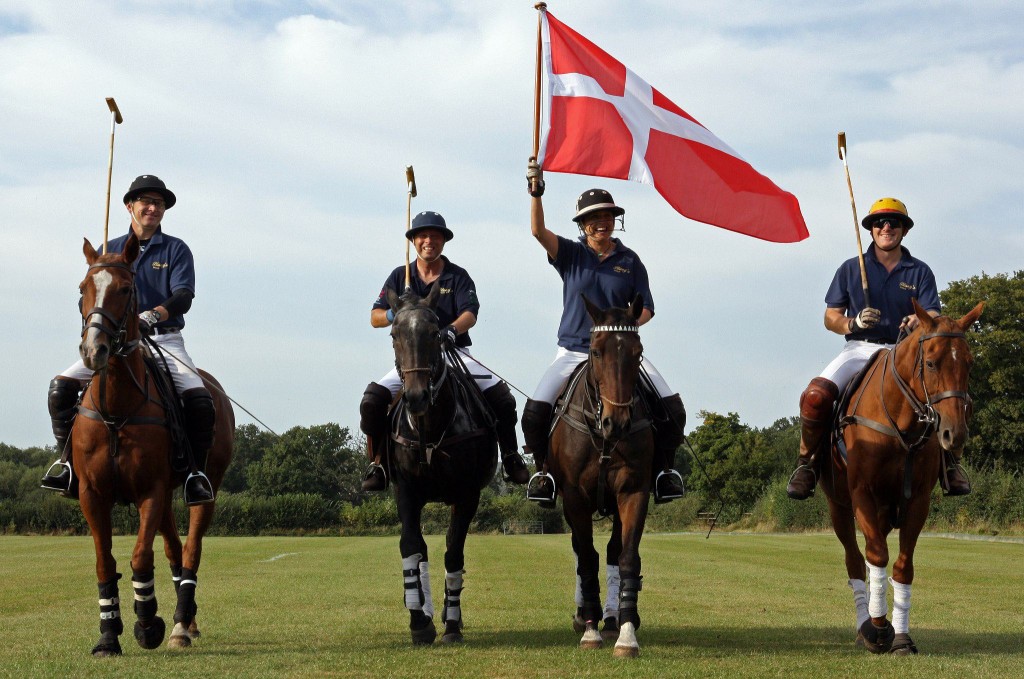 In 2013 Louise Sandberg and Jacob Klingert Jacobsen succeeded with the first international Polo event i Denmark – Copenhagen Polo Open(CPO – a Ltd. Co.).
Due to the interest experienced during the preparation of CPO and thus as a consequence Danish Polo Association was established by Louise Sandberg, Jacob Klingert Jacobsen and Christian Mellentin in 2012. The Danish Polo Association is the official governing body for Polo in Denmark and also functions as a club and an academy that welcomes all levels of interest from players and spectators.
Despite a long history of equestrianism, the highest per capita horse ownership in Europe, an obsession with ball sports, acres of flat land, Denmark was one of the few countries in Europe that still didn't have a Polo association.
In late 2012 a meeting was held in Copenhagen to see if there was sufficient interest to get an association started.  The meeting and support was a success and the Danish Polo Association was established under the umbrella of Denmark's largest and oldest horse riding club – Sportsrideklubben (founded 1900).  The Danish Polo Association runs under the rules of England's Hurlingham Polo Association.
A group of 'Founder Members' have each contributed financially to start the club – the Founder amounts are transparently converted to Polo time.
It must be stressed that DPA is not a privately owned club. Denmark has a unique history of associations – DPA is a sports association in the most expensive country and margins are reinvested in DPA assets.
The club's 2014 location is about 10 minutes drive from central Copenhagen, easily accessible by public transport or by car with plenty of parking.
DPA encourages anyone to open branches of DPA or private clubs. Anyone with ideas, land and/or prospects are encouraged to contact DPA.
The Danish Polo Association is open to everyone.  Private lessons, group lessons and instructional chukkas can be arranged with all equipment provided.  Instruction is provided by a qualified, friendly polo professional with years of experience in teaching on safe and easy horses.
DPA's purpose is to raise awareness of and exercise polo in Denmark.
In this work DPA would try to break down myths like: that it requires at least 6 horses to play Polo, that you must have ridden for many years to play polo, it takes a long time before you get the experience of playing polo etc..
We would dare to claim that one could have an experience of having played polo – regardless of prerequisites – after the first day! The experience of playing polo is great because all the senses and one's entire physique is in use. We would like to share this experience.
Polo is called – king of sports – sport of kings – and it must be emphasized that you can take the sport to the heights you want:
You can "drive a go-cart as well as Formula 1" – the game is the same. Also, the glamour often associated with Polo is just the "cherry on the pie" – most of the time it is low key, lots of fun and cameraderie and hard work making it all look and feel so elegant.
Horse welfare
As long as there exist equestrian sports there will be varied concerns of the welfare of the horses. That being trot/gallop racing, dressage, show jumping, military, hunting, western riding, carriage driving etc. Concerns are most often based on ignorance. Knowing the time and love horse owners spend and have for their horses such concern is contradictory. However, different countries have different cultures and malpractice can occur. Denmark is a very developed country within animal welfare rights and have a history of the highest standards.
As a new sport in Denmark we stress that DPA supports these high standards.
DPA Committee:
Christian Mellentin (Chairman)                  cm@danishpoloassociation.com
Gregers Lauridsen
Søren Hæstrup
Mette Asmild
Flemming Viktor Andersen
Representatives from Sportsrideklubben (SPR):
Ole Rosdahl (Chairman SPR)
Jakob Leth (Vice Chairman SPR)
Founder Members:
Louise Sandberg
Christian Mellentin
Leah Hamdan
Quattro Capital Institut AG
HOMANN Advokater
Copenhagen Property Investment
Michael Husted
CDM A/S
Flemming Viktor Andersen
Louis du Toit
Babar Jamal